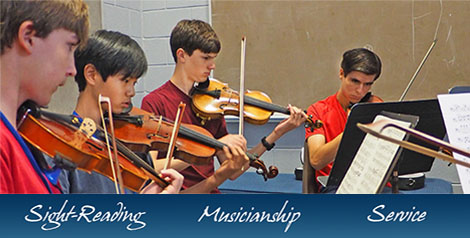 At First Sight is an intensive five-day chamber music program designed for advanced and intermediate young string players, typically ages 13-18, (although playing level, rather than age, is the primary deciding factor in placement). Intermediate players are generally in Suzuki book 4 or 5, and Advanced are in book 6 or above.  Students older than 18 are welcome to apply. Pianists wishing to attend AFS must contact the director about conditions for entrance.
AFS devotes a significant amount of time to sight-reading, in addition to technique training and performance skills, vital to developing fine musicianship. During the workshop each student participates in several different chamber groups and the AFS Chamber Orchestra. Evenings include HausMusik–a delightful mix of students and staff playing chamber music together informally.
At First Sight focuses on God, the source of the gift of music.  Our morning begins with Descant, which includes worship and hymn singing, sets the tone for each day. In order for students to share their gifts with others, community service concerts are part of the AFS schedule.  AFS is non-denominational.  Students of all faiths and backgrounds are welcome. At First Sight believes strongly that music at its heart should be cooperative, and thus the atmosphere is  intentionally non-competitive.


At First Sight offers both advanced and intermediate levels in two simultaneous tracks. Each track has its own string orchestra, and unique chamber ensembles. The two tracks combine for sight-reading and for evening activities.  Students will be placed in the appropriate track based on playing experience, reading level, and faculty discretion.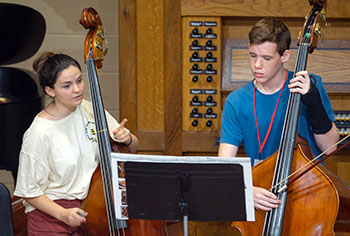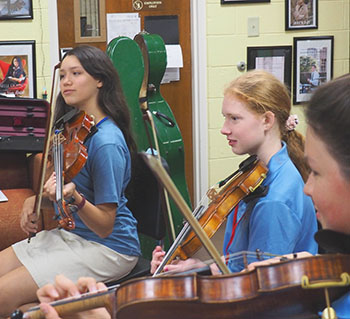 Sight-reading intensive
Coached chamber groups
Advanced and Intermediate orchestras
HausMusik (staff/student reading sessions)
Staff and Student performances
Community service performances
Private lesson options
Choice of extra-curricular classes/seminars
Descant (morning worship/hymn-singing)
Excellent coaches and teachers
Superb musical development in a short time
New musical friends
Expand musical repertoire with great music
Monday
    1:00 p.m. Check-in
    Orchestra Rehearsal
    2:30 p.m. Orientation meeting
    Chamber Group Sessions
    Welcome Picnic
    HausMusik (done by 8:30 p.m.)
Tuesday and Wednesday
    8:30 a.m. Descant
    Seminar and Orchestra
    Chamber Group sessions
    Sight-Reading sessions
    Evening – Master Class or Staff Concert
    HausMusik (done by 8:30 p.m.)
Thursday
    8:30 a.m. Descant
    Chamber Group sessions
    Sight-Reading sessions
    Evening– AFS Chamber Ensemble Concert
Friday (done by 3:00)
    8:30 a.m. Descant
    Community Service Concerts
    Pizza Feed
    Large Ensembles concert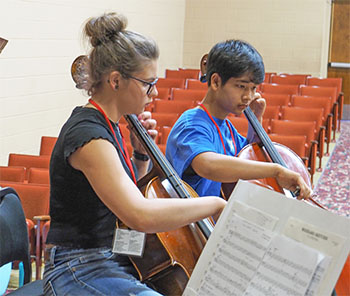 Advanced Orchestra in concert June 23, 2022

Advanced Orchestra in concert June 23, 2022