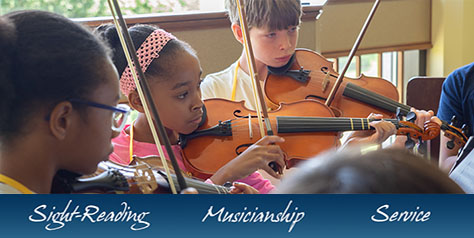 InSight, the junior division of AFS, focuses on sight-reading and basic ensemble skills (both orchestral and chamber).  It is open to young players who are already reading music well in 1st position, with some awareness of 3rd position. InSight student are typically ages 9 through 12, and in Suzuki book 3.  New in 2023 is PreView, a group for book 2 young readers.  See bottom of this page for more.


InSight helps students to read music better, to gain confidence in their ability to play with others, and to work together to make beautiful music. Skills and repertoire classes, theory and music-reading games, and Dalcroze Eurythmics-based movement classes will help improve each child's personal musical skills.

InSight's emphasis on service to the Giver of music focuses the efforts of the young students. Sharing music in performance with elderly and less-privileged audiences teaches our students to be grateful for the ability to make music and for the privilege of bringing joy to others.

Please note: each InSight student age 9 or under must be accompanied by a parent or other responsible adult to all InSight events.
Group classes
Skills and repertoire classes
Theory and music-reading games
Dalcroze-based movement classes
Guided sight-reading chamber music groups
Sharing through playing for others
Making new friends
Playing music together
Ice-Breaker Picnic
Exciting chamber music concerts to attend
Monday

    1:00 p.m. Check-In and orientation
    Group Classes and one Sight-Reading Session
    Theory Games and Eurythmics
    Skills and Repertoire Class
    Ice-Breaker Picnic

Tuesday, Wednesday and Thursday

    8:30 a.m. Descant
    Group Classes and two Sight-Reading Sessions
    Sessions of Theory Games and Eurythmics
    Skills and Repertoire Class
    Done at 5:00 p.m.
Friday (done by 3:00 p.m.)

    8:30 a.m. Descant
    Community Service Concerts
    Pizza Feed
    Large Ensembles Concert
PreView: Students with basic reading skills and in Suzuki book 2 will benefit from playing in one- or two-part ensembles, and learning to follow a conductor. PreView students attend only partial days, and do not plan to perform in the concerts. Descant and concerts are open to attend, but not required. Students must be at least age 6, and must be accompanied by a guardian.
Monday
   1:00 p.m. Check-in and Orientation
   One group class, one Music and Movement class
Tuesday, Wednesday, and Thursday
    Two group classes, Music and Movement class
Friday
     No appointments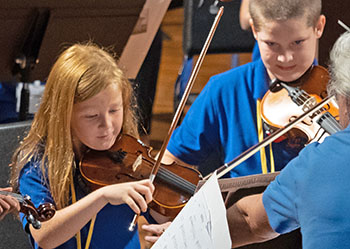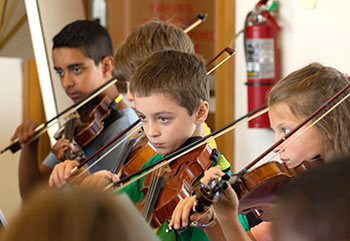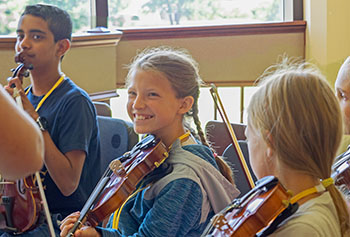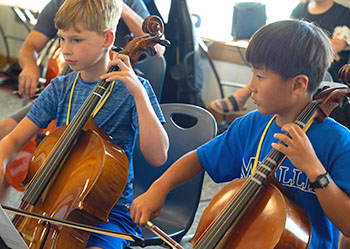 InSight Orchestra in concert June 23, 2022