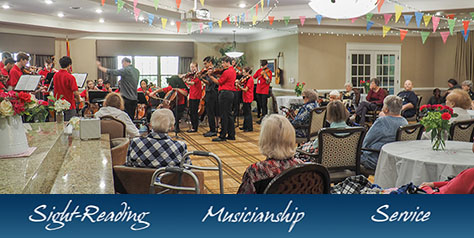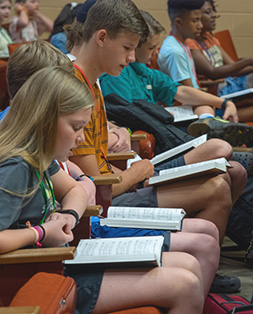 Students singing during Descant
Of all the educational possibilities At First Sight offers, the most important is the connection between gift of music and God, who gives it. Every musician is given the ability to create beauty. At First Sight reminds the student of the Source of that ability, the responsibility connected with it, and the opportunities it brings to touch others in a unique and meaningful way.
At First Sight strengthens the personal relationship with God through singing and inspirational thoughts during the morning meeting, known as Descant.  Singing hymns together connects music with the soul and spirit, in a non-technique-oriented way.  It opens to young minds the  history, beauty, depth and joy to be found in the hymnal.
With the gift of music comes both the responsibility to improve the gift and to share it.  AFS focuses on the connection between the gift of music and God, the giver. By sharing their gift through performances for residents in senior care facilities, students improve their abilities and bless those around them. Many of these residents rarely see young people, and they truly appreciate the music which our students share with them. Our students, in turn, find themselves blessed by reaching out to others in a tangible way, using the gift they have spent the last several days developing.