Sight-reading is one of the most important skills for confident musicianship.  It is also one of the least-practiced, least-trained skills in the musician's palette. Because of this, many musicians feel uncomfortable sight-reading.
At First Sight teaches students how to sight-read easily, efficiently and with confidence, through the medium of chamber music.  Because chamber music demands a high level of individual musical responsibility, it demonstrates the importance of being able to read well, and becomes a valuable venue for sight-reading practice.
AFS Staff members work with students to give them both sight-reading skills and experience through chamber music reading sessions, seminars and demonstrations. Students at AFS overcome the fear of sight-reading, becoming stronger players and more confident musical leaders.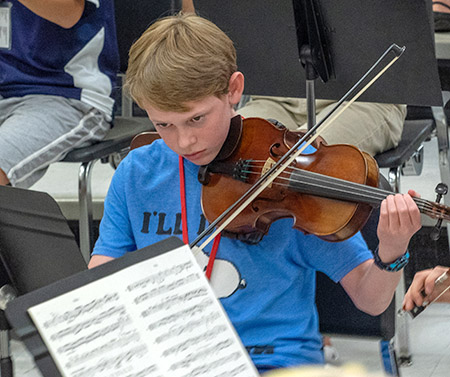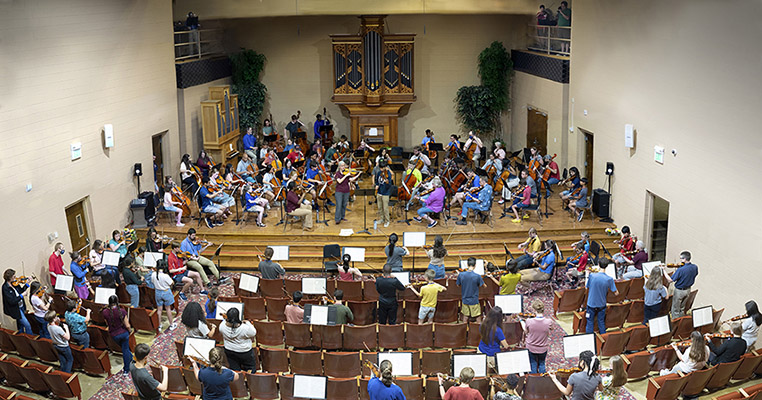 Sight-reading is learned by doing it. Wednesday evening, staff, students, and a few others, read the Mendelssohn Octet together, sight-reading at its best. AFS of 2023 had more players than would fit on the stage, so stands of music were placed in the auditorium's seating area. Here you see 110 players, 6 of them in the side balconies, reading the high-energy Mendelssohn Octet together, an amazing experience.